UNIVERSITY EDUCATION
Name: Kelvin Gathee
Degree awarded: B.Sc Agribusiness Management
Year of graduation: 2016
Degree Classification: Second Class Honors, Lower Division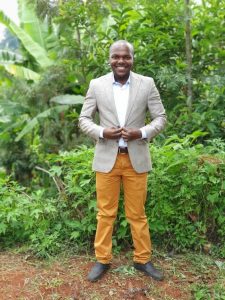 EMPLOYMENT DETAILS
Current employment:
Kakuzi Plc
Kakuzi Plc is a listed multinational company trading on both the Nairobi Securities Exchange and the London Stock Exchange. It engages in the cultivation, processing and marketing of avocados, macadamia nuts, blue berries, tea, livestock and forestry development.
Position:
Assistant Manager, Extension services
MY STORY
I joined Kakuzi Plc in June 2017 as a Trainee Manager cum Extension Officer and risen to Assistant Manager, Extension Services. The coursework and the skills I earned from UoEm have come in handy in my daily worklife.
Main responsibilities:
Main Job Purpose: To manage all related activities on Avocado Smallholders production and development to obtain the highest production, quality and traceability of product in meeting market requirements for Smallholders.
1. Plan, coordinate & monitor Smallholder operations.
2. Plan, assign and delegate responsibilities to Smallholders
3. Plan Smallholder training programs
4. Maintain Estate Infrastructure
5. Carrying out Village Improvement Schemes and Village Environmental Committee (VEC) meetings
6. Ensure compliance to Food Safety procedures and Legislation to ensure traceability of fruit deliveries
MY MESSAGE
"…aim to acquire skills, beyond papers, that address the following: communication, judgement, presentation, confidence. I was among the pioneers of University of Embu, having been the 1st cohort. The University did not have as many resources as it has today, such as the ultramodern library, but we worked hard. With the resources available to you now, make the best from them ………………………"